While at Dog Beach near my new place of residence, I get this question a lot.
"My dog hates the water. S/he won't swim, and highly dislikes baths. Can you teach him/her to like it?"
My answer to this question is not quite straightforward.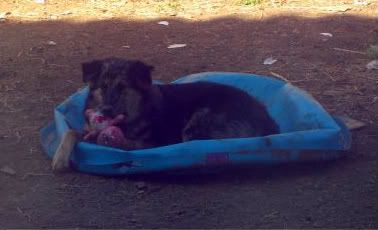 As a bratty young teen, I
taught my dog to love water by lugging him in the pool with me, or dropping him in a pond. In hindsight, it may not have been the most humane method, and I'm sure that at first he didn't appreciate being chucked into a muddy puddle, but he has come to love it. Any standing body of water he can fit a toe in is now plopped down in with much gusto. We buy him a pool every summer so he can lounge about while we do yard work. However, he still doesn't appreciate baths (which are usually given outside, and also with the hose, due to his size). I cannot verify if this was a behavior that I conditioned into him, or if his love of water is ingrained, as I never saw much of his parents. I do think, given that you work with your dog from an early age and with a non-traumatizing approach (IE slowly going into standing water such as a pool, holding your pup gently, and encouraging it to swim towards you as you swim away backwards, giving lots of praise, and making it a positive experience in general), you can teach your dog to accept water.
As an adult dog, it is highly unlikely that you will get your dog to enjoy the concept of swimming, especially by dragging it in. I've seen this approach many times, and it only helps to fuel their fear. If your dog is extremely toy motivated, you *may* be able to get your dog to retrieve the toy if tossed in the water. I would not recommend tossing it out too far, or if you're in plain clothes, because your dog may not want to go in and you'll be stuck fishing for the toy. You can try gently coaxing your dog in with treats and lots of gentle praise, but it is still may not work. Some individuals take to swimming, others don't.
During bath time, it is possible to calm your dog dog by using a tub filled only minimally with water - think of right above your dogs feet as a good fill line, and make sure the water is comfortably warm - maybe a bit above room temperature. If your dog seems to be comfortable, other than the occasional escape attempt or some shivering, you can help make their experience better by giving them some treats, talking to them, or just praising them in general. When your dog is terrified, there is not much you can do other than to remain calm, as they feed off your energy, and talk to them reassuringly and gently while you wash them, perhaps giving them a little massage while lathering them up. A panicked or scared dog is highly unlikely to respond to treats, but you can try a pre and post bath time routine that may make it less stressful.
In training, we have a saying - a tired dog is a happy dog is a well behaved dog.
Try starting off by taking your dog on a nice long walk or throwing the ball for them until they're worn out. Next, associate bath time with something positive - introduce the word "bath" into your training vocabulary. Say the word, and reward with treats. Repeat. Stay cool, calm, and collected when it comes time to put your dog in the tub. Afterward, reward with treats, praise, a towel massage, and maybe even a little jaunt out in the sun (on leash of course, you don't want your dog to go rolling in the mud again). Make it all a positive experience and you should see your dog become less neurotic around bath time.
The best thing you can do for your water-shy dog is to avoid excessive force when it comes time for a bath, and avoid forcing altogether when it comes to swimming. Some dogs take to water naturally, others can learn to love it, and some will just never enjoy it. And
always
remember to fit your dog with a life jacket around water - it saves lives!